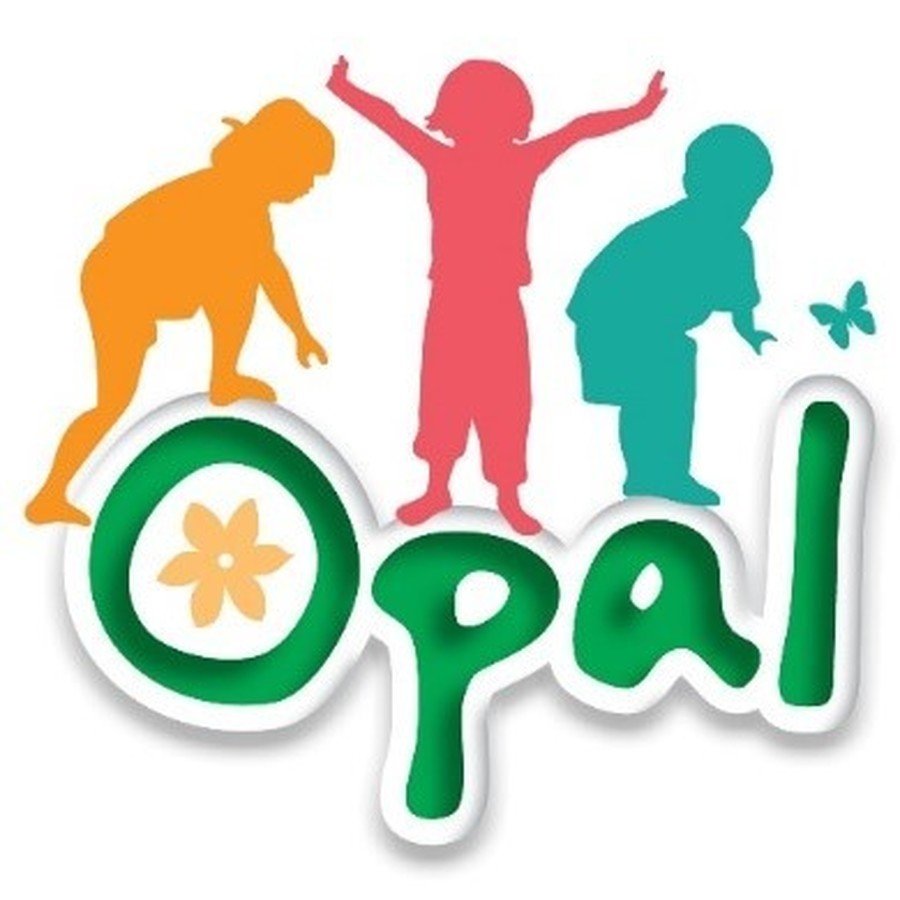 Why we chose OPAL?
Playtime makes up 20% of the time that children spend at school, so we want to make sure that children get the most out of it. Play has changed hugely over the last 25 years as the world has become a much busier and more technologically developed place. As a result, children sometimes miss out on the physical and creative side of play that is so important to their development.
OPAL has been designed to give children the sense of freedom that perhaps we all enjoyed as children, but that the modern world sometimes denies us. At Hartside Primary Academy we believe that play is essential for children's physical, emotional, social and intellectual development and therefore we are committed to ensuring quality play opportunities are available to all of our children.
So what does this mean?
How we play during lunchtimes will change over the next 12 months or so. Children will be offered new challenges and allowed to play with a range of new equipment and resources. Children will be allowed access to different parts of the school such as the field and they will be allowed to play outdoors in all weathers. However, this means that the children need to be well prepared. We therefore ask that you send in a pair of named wellies for your child to keep in school, so that they can keep their feet dry on wet/snowy days. We also ask that they always come into school on a morning with a waterproof jacket or coat.
As we will be allowing the children to explore the grounds and choose freely, you may find that your child is a little dirtier when they arrive home, but we promise that the experiences and learning that will have taken place makes it worth it.
As the children develop confidence it is likely that they will start to embark on some 'risky play' such as tree climbing, den building, making swings and rolling down hills, but don't worry, as the initiative progresses we will encourage the children to developer resilience and risk assessment skills. Alongside this, we will host a weekly assembly where children discuss what has went well in the previous week and what could be better. Then we will introduce new play items and talk through the potential risks, as well as develop as set of boundaries agreed with the children so that they know what they can and can't do with the resources available to them.
All of our staff have all been trained on the OPAL approach to play and we will have a play policy and long-term plan that will be shared via the website soon.
We're still collecting the following items:
Nets, ropes, plastic milks crates and swimming pool noodles
Road signs and cones
Items with wheels such as: scooters, pedal go karts, wheelchairs and wheelbarrows.
Small world items like: Lego; small figures/people; small plastic or wooden toy animals; small cars, lorries, trains, planes, boats and diggers; dolls' house furniture; mini houses or farms and scenery such as trees, bushes or pebbles.
Tools such as: spades, trowels, buckets and brooms
Kitchen equipment and utensils such as: pans, baking trays, work tables, wooden spoons and chopping boards
Cable drums
Foam sheets or body boards; fabric (brightly coloured if possible) and pegs
Artificial Turf
Dressing up clothes including hard hats and high visibility vests.
All items must be in good condition with no damage and it's important that we only receive the items that we've asked for.
If you have anything to donate, please bring them to the main office.
Play Policy and Supporting Documentation
Hartside Primary Academy Benefit Risk Assessment
OPAL Club - Thursdays 3.20pm to 4pm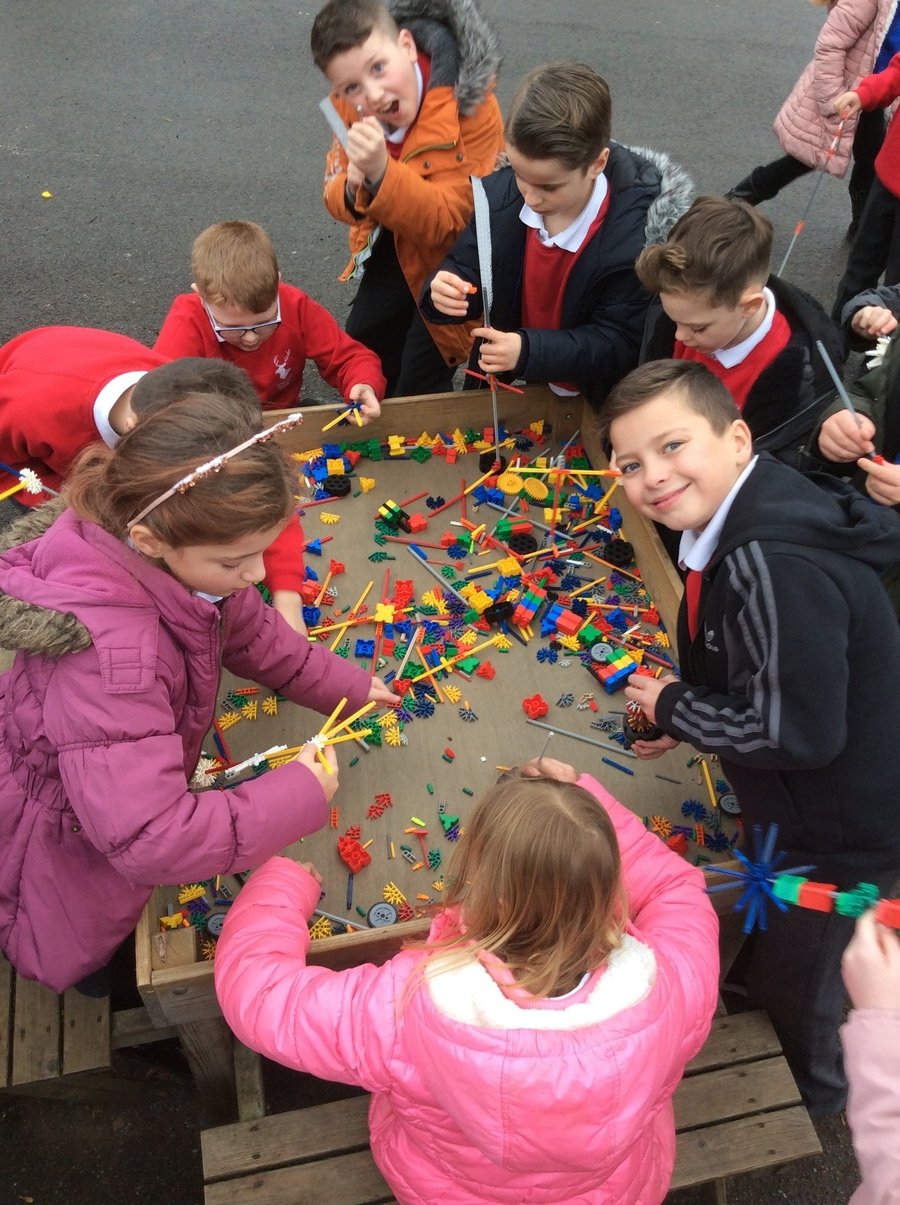 The boys and girls enjoying the new mini construction area.
The sandpit has been installed and the children are thoroughly enjoying it.
Some of the KS2 children digging out the planters to make way for our small world area. The only thing we need now is small world items like people, vehicles, animals and Lego. If you have any that you could donate we'd be most grateful.
Rain? What rain? Some of our KS2 girls showed some brilliant team building skills in order to keep themselves dry while playing in their dens at break time.
This is what OPAL play times are all about.

There are risks associated with playing with tyres, however the children are learning to manage risks and the benefits are huge -balance, coordination, problem solving, cooperation, team work,game design, upper body strength and most of all enjoyment!t...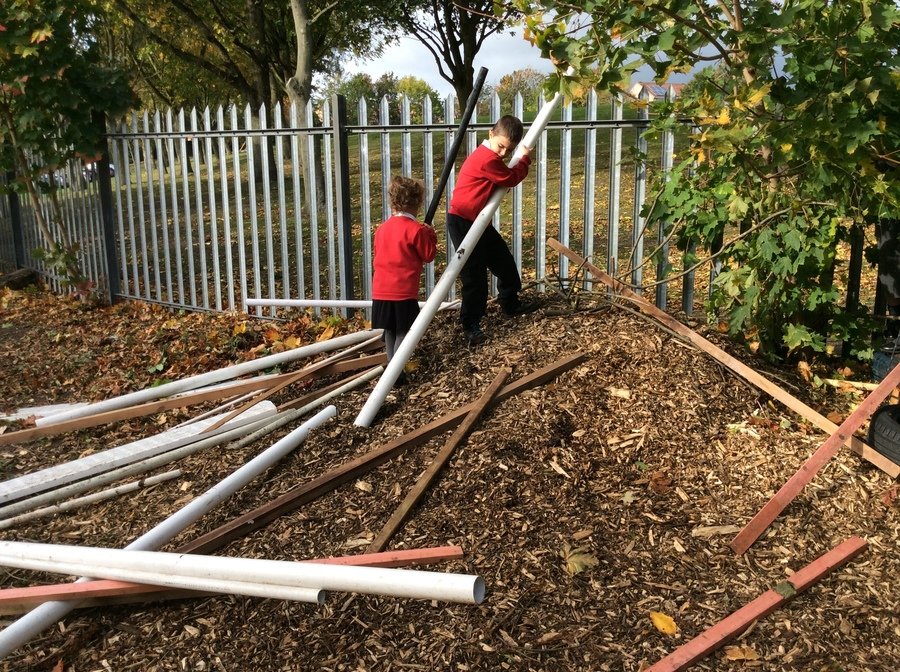 An activity as simple as rolling items down tubes provides so many learning opportunities: gravity, friction, prediction, property of shapes, teamwork, taking turns and reasoning.