EYFS Staff
BEth Hodgson - Assistant Head Teacher - EYFS Leader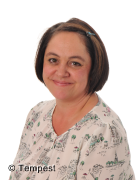 Hi there! I teach the Reception boys and girls but I work with all of the children in our EYFS unit. I absolutely love playing and working in EYFS! My favourite things to learn about are pirates and dinosaurs. I like to teach phonics and I love to make silly songs up and have lots of fun everyday!
My favourite story is The Gruffalo by Julia Donaldson.
My favourite song is 'mm nn Went the Little Green Frog!'
My favourite thing to play is… playing with the children outdoors where we can be as messy and noisy as we like! I especially like making soup and pies in our mud kitchen. Oh and finding worms and minibeasts hiding under logs (Our Miss P hates worms so we have to look for them secretly – sh!) I love climbing on our climbing frame and pretending it is a space ship but I am not very good at jumping off. I am really good at building dens and castles outside too!
Outside of school life I enjoy reading lots of books, going shopping and walking my dogs called Sid and Derek. Sid can be naughty because he loves pinching socks and Derek likes to jump up on the settee even though he's not allowed! Mr. Hodgson, likes to think he is a bit of a farmer (even though he is not really) and he has just brought four hens home to live in our back garden! I have two children to keep me busy at home too, they are called Alex and Tobias.