New Community Outreach Worker
New Community Outreach Worker
15 May 2018 (by admin)
We are delighted to introduce our new Community Outreach Worker and Learning Mentor, Miss Karen Turnbull. Karen will be on the yard each morning and at the gate on an evening to say hello.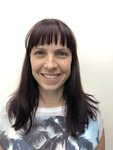 I am very excited about starting my role at Hartside.
I have worked with children, young people and families for around 20 years helping and supporting with lots of different things.
I have a 3 year old little girl called Isla. We love being outside and going for walks up the river, playing in the park and in our garden. We plant lots of flowers every year and we always grow a big sunflower. We enjoy going camping and going on adventures to the beach.
I have two dogs a German shorthaired pointer called Mr Jinx and a black Labrador called Duke. We love taking them for walks and letting them swim in the river.
My family and friends are very important to me and I love spending time with them.
My favourite book to read with my daughter is Sugarlump and the Unicorn by Julia Donaldson. Our favourite films are "The good Dinosaur" and "Beauty and the Beast" and we love singing along to all the songs.
I am really looking forward to working and getting to know the children and families at Hartside and feel so lucky to be part of such a wonderful school.
Share this: