Special Times
Look at all of the exciting adventures we have been having in EYFS!
One Very Special visitor
We got a lovely surprise when we arrived in EYFS one morning to find Fire Fighter Dave Johnson had called in to see us. Although he loves visiting us to see all of the fun things we have been finding out about, today was about serious stuff. Fireman Dave had come to remind us how to keep safe if we ever saw a fire.
We found out all about his uniform which he wears to protect him when he is at work - Poppy didn't like his jacket, "It smells of dusty smoke!"
Ross impressed Fireman Dave with his super knowledge of when and why Fire Fighters sometimes have to spray foam.
Fireman Dave also reminded us all of how dangerous rivers can be, even when the weather is hot we must not be tempted to have a plodge or a swim. Mason agreed, "You should only go swimming in a swimming pool!"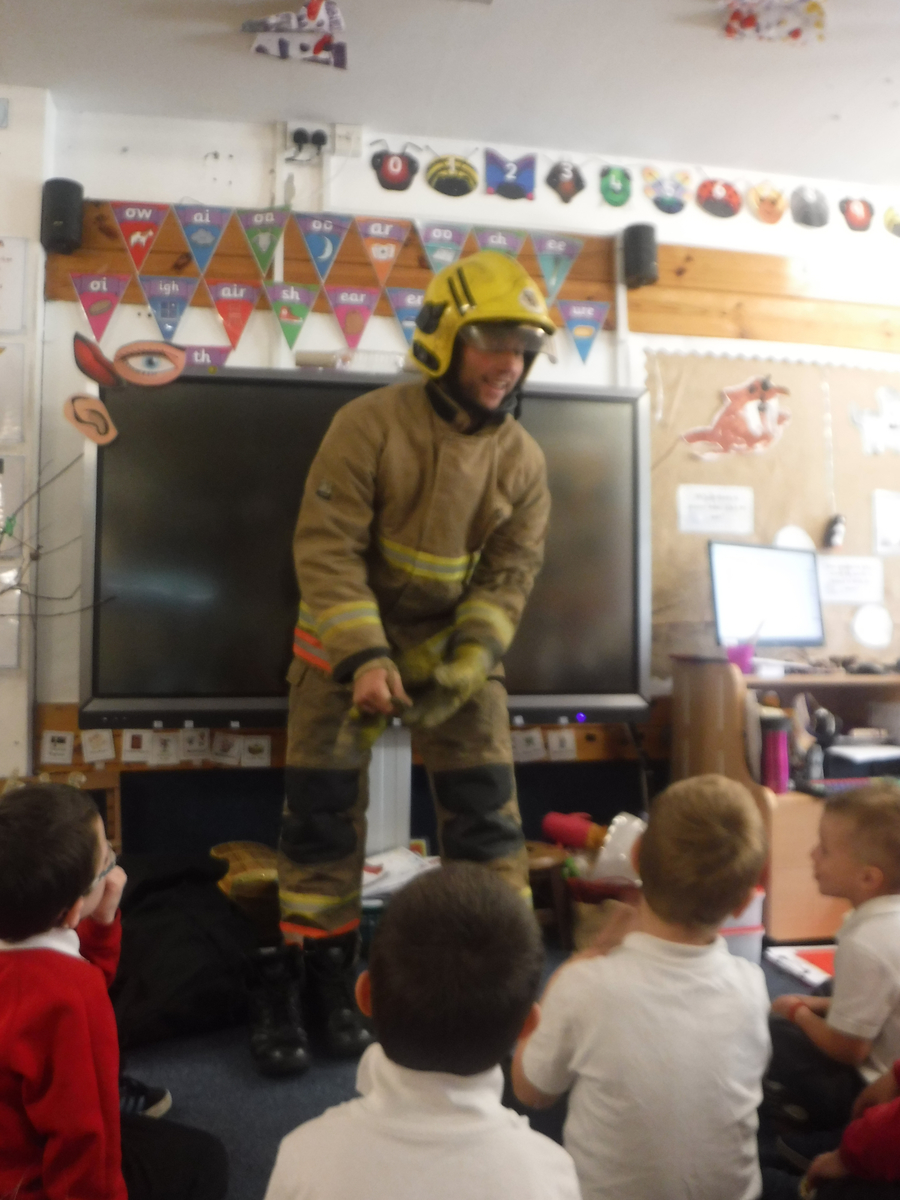 Stay and play
Phonics
A big thank you to all of the Reception class parents who attended our recent Stay and Play session. All of the boys and girls had 10 phonics challenges to complete in an hour with the help of their adults.
Pond life
Well a surprise was in store for Reception class this week when an innocent trip to the pond turned into quite an adventure! We visited the pond at the beginning of the term and found lots of tadpoles, so this week we thought we better check up on them. We talked about what we thought we might see.
"Water snails?" Natasha suggested.
"Maybe the tadpoles will have back legs?" Matthew wondered.
"Enemies!" Harrison remembered the little beetles that would eat the tiny tadpoles.
So off we tromped with our pond dipping equipment and our camera. We scooped and scooped and got a bucket load of tadpoles.
"No change!" a very disappointed Sonny announced.
Miss Pea even went into the reeds with her wellies on to get a really good sweep with the net, but no froglets yet. We got ready to leave the pond but Miss Pea wanted to have one last scoop.
"Stop! There is something in here…," Miss Pea shouted as she peered into the net.
We all gathered together to inspect our findings. A very hoppy frog and an amazing newt wriggled and jiggled there. We very quickly popped the creatures into our trays so all of the boys and girls could have a closer inspection. Nursery class were sent for, so they could see our pond life close up too.
"He's slimy!" Jack laughed when he got a good look at the frog.
"Will he bite?" Astrid nervously asked.
The frog enjoyed our company so much he decided to hop on Isabelle, who wasn't so keen on a Froggy cuddle. Our new friends were carefully returned to the pond, whilst we returned to class to find out more about newts and frogs.
"Maybe we will find a fish next time!" Lily is looking forward to our next pond adventure.